My recent visit to CHINA has given me many deep insights and I had decided to write this blog.

Visited CHINA with a PUNE based customer (RAPTECH, PUNE) and a colleague (VIKAS). 3 Persons joined us in HONGKONG (Mumbai- Hongkong) and 2 of us travelled from (NEW DELHI- HONGLONG) on 8th of JUNE..

Each activity and schedule was well planned for all 5 of us and it was executed very well and exactly as per schedule.

Only very few guys were wearing masks in CHINA just like our own country. Covid-19 fears has gone out totally from CHINA as well now. But on airports QR code / self-health declarations to be done.

In this trip I went to 6 manufacturing plants in groups and it was good to see their offices / their hard way of working / their way of manufacturing / R & D efforts / New developments/ Their way of life and enjoy as well. Almost everywhere ladies are leading SALES AND MARKETING (Domestic as well as INTERNATIONAL). They speak English fluently. Some factory owners speak the local language and mostly someone helps them to translate. Though they speak their local language but they have VERY CLEAR THOUGHT PROCESS / CLEAR VISION FOR next many years at GLOBAL scale. They travel a lot worldwide and mostly pre-occupied with busy schedules. They also use online tools / softwares quite frequently. Quickly get into web meetings, just talk to the point and finish it quickly and get back to next work so quickly. Overall — a very high level of professionalism. Offices have 5 days a week mostly (MONDAY- FRIDAY) and for factories it is 6 days (MONDAY – SATURDAY) and sometimes even on Sundays too.

Also I noticed that they simply do one task at a time and stay cool / calm most of the time. If with customer / visitors, then only business except very urgent calls. If lunch / dinner, then only lunch or dinner. If shopping then only shopping. It means that only one activity at a time with very focused approach.

I have been to different parts of Europe (Germany / Switzerland / Italy / France / UK/ Vienna ) and JAPAN/ China earlier. CHINA had improved now to as good as any other parts of world. Their trains runs at speed of 310- 350 km per hour and always on time. On 17th June I had travelled almost 1000 km in just 210 minutes only and mostly with speed of 345- 348 km per hour. Buses have improved and always on time. Local flights are also available. They drive vehicles at speed of 120- 130 km per hour usually and roads are not crowded. Almost in all places I could see lots of ongoing constructions (Building / Factories / Offices etc.).

Also I noticed that they had stopped GOOGLE / WHATSUP / FACEBOOK / YAHOO / GOOGLEMAP. For that they have their own systems (Like BAIDU for navigation) and it works very well in CHINA. As per our local friends GOOGLE / WHATSUP / FACEBOOK / YAHOO have not followed up their country policies and they had asked them to leave their country. Similarly in our own country (INDIA) alternates must be developed if these global companies do not follow GOVT OF INDIA policy as well. They also have very high respect for their current leadership and want them to continue as long as they can. Via portals they do communicate with their governance. Each guy has his own ID card and they have a personnel credit scores system. In case of any misbehavior at public places their personal scores get deducted.

For pure vegetarian person (like me) it's a struggle as only WHEAT BREAD / RAW VEGETABLES / RICE / FRUITS / JUICE / COFFEE seems only option. Pure vegetarian persons from INDIA need to bring their food (readymade curries / dishes / haldiram food packs).

Most of persons speak only Chinese language only and one need to use translator (CHINESE – ENGLISH) most of the times. Even at 7-star hotels / 5 star hotels, I struggled to communicate at reception. Only language translator helps greatly.

On 9th June late afternoon we (5 of us) reached BEIJING, CHINA.

On 10th JUNE we went to CHINA WALL / SUMMER PALANCE (All 5 of us) and it was great time together. Some china families were very happy to see us and clicked photos with us.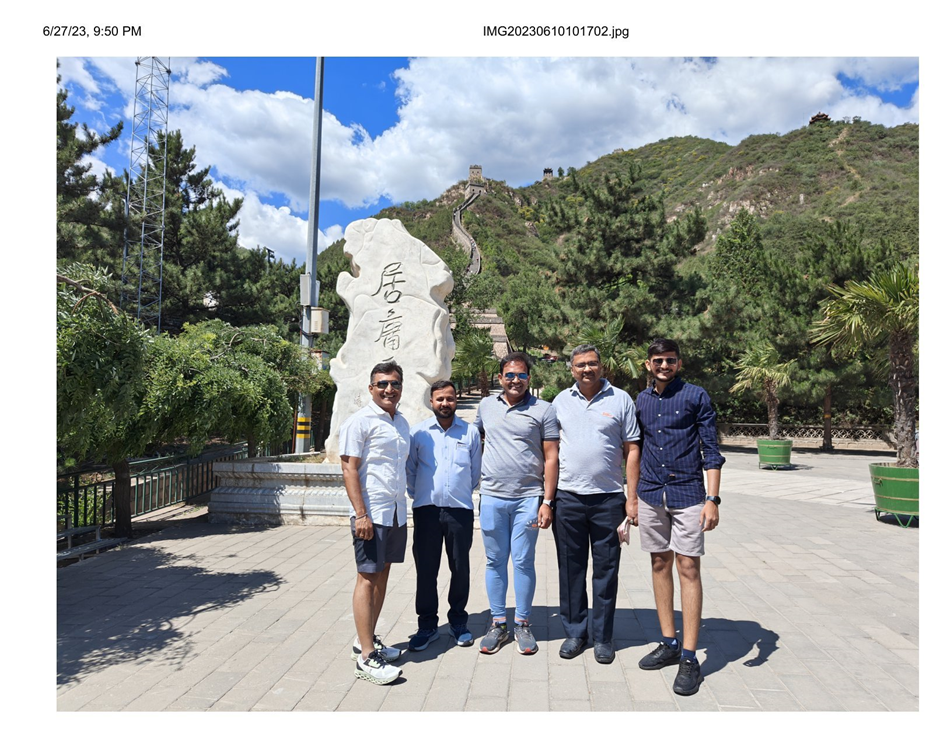 On 11th June we visited a TUBE MILL COMPANY and 2 of their customers as well on SUNDAY. It was arranged so nicely and quickly. 11th night we reached JINAN.

On 12TH we visited JQ LASER factories and could conclude our biggest ever order by end of day. Below picture speak thousand works and roadway ahead for us-

On 13 / 14 / 15 June we had various meetings / training / plans for ourselves.

On 16th June I Travelled to NANJING for inspection of our ordered 260 T press brake and was amazed to see factory / workmanship / quality as well.

On 17th June I travelled to BEIJING from NANJING. 1000 KM distance we could cover in just 210 minutes.

On 18th June I travelled to BEIJING – HONGKONG – NEW DELHI (Full day travel).

But throughout 10 days we observed no. of things, and every observation was a teaching.

Almost at every point our hosts have taken great care— right from PICK UP from airport / railway station / stay / food/ factory visits/ taking us to different places/ drops/ hotel bookings. For overseas visitors they take extreme care, and it was great to notice that.

For exports / exhibitions outside their country— they have good incentives from GOVT OF CHINA and many companies focus on exports to different part of world. Suggest that if our country can also have some more promotional schemes for exports to expand business. All our local manufacturers must be encouraged for more exports and be more GLOBAL.

They use almost all global car brands (BMW / Benz / Audi / Toyota / Honda/ General Motors/ China manufacturers- BYT etc.) and mostly electric Scotties and cycles as two wheelers. Electric vehicles are getting more popular.

Besides above we had some great interactions / discussions at each place. First time ever valuation of my own proprietary company (6th year of working) was asked and I felt pride of that. We are all set to get into next levels. At one point one senior person have quoted that if INDIA / CHINA / USA can come together on different business matters then everyone / world will have possibility to grow much better / faster.

Also our biggest ever order (since inception of SHARDA ENGINEERS, FARIDABAD) has been concluded on 12th June 2023. It was a unforgettable day since a BLM MACHINE (European machine) USER decided on us to buy 2nd machine only from us for his new plant. High end configuration – 6 kw laser / 3 chuck/ till 350 mm dia / auto loaders on both sides/ dust collector. It has happened after a series of web meetings / one to one meeting at PUNE / Plant visit and a very deep evaluation by RAPTECH TWO owners and their young and sharp development engineer (SHUBHAM). We had really learnt a lot from this customer / various discussions —-answered each of their questions——- not only business but also many aspects of way of life (we stayed together for 96 hours in BEIJING / JINAN / VARIOUS VISITS). It's our start of new journey to get associated with such high-level customers who brings GLORY (EXPORTS) to INDIA and one of fastest upcoming mechanical engineering company in west part of INDIA and well-respected name due to all their hard work and achievements.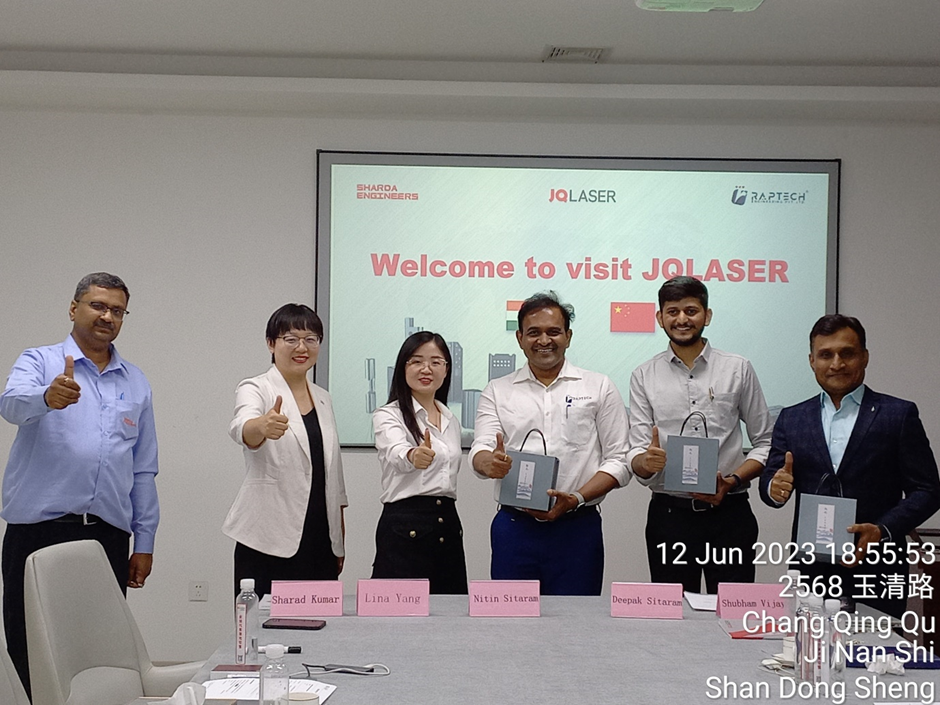 It's all set to create many more such milestones in the near future.

Also for each foreign visitor they record entry at different airports / railway stations by scanning it. We can also have such system to track any movements of foreign passport holders with automated machines. This will control many matters with ease.

Last but not least — on some social media forum some of my friends took me upfront for any praise in CHINA. I believe that business and emotions are totally two different matters and it must never be mixed up. At first, I am an INDIAN and pride of my country and our current leadership as well. Our current leadership has made INDIA as 5th biggest economy of world and we can still learn a lot from larger economies and developed nations.

Hope that my above words will help many. Await your feedback / views on [email protected] OR on WhatsApp on 9958199762 / 8178907557.